January 25, 2019
There are many shredding options out here, however not all are created equal. Some shredders are fairly simple and ideal for everyday bits of paperwork, but not ideal for sensitive documents. Other shredding methods are ideal for destroying highly sensitive or classified documents, but are considered overkill for everyday paperwork. If you are comparing document destruction services, it is important to understand the common types of shredding methods in order to determine the best method for your needs.
---
December 27, 2018

Mobile Shred Trucks Offer Security & Convenience
Mobile shredding is a popular option for residents and businesses alike. Mobile shredding companies have the experience and proper equipment to dispose of documents in a neat, legal, efficient, and cost-effective manner. Here are three reasons people opt to schedule a mobile shred truck for their shredding needs:
---
November 21, 2018
ConfiData, a secure document destruction company servicing Albany, Utica, Syracuse, Binghamton, and surrounding areas, acquired the Onondaga County-based shredding company, Shred Solvers, in July of 2018. Shred Solvers, Inc. was founded in 2009 by Jim VanAuken and has since been Central New York's trusted source for business and residential shredding needs.
---
October 9, 2018
If you are not yet on the shredding bandwagon then it is time to reconsider! We have heard all the excuses from "shredding is too time-consuming" to "it costs too much" and "I am not sure what I can and can't shred". However, it is becoming increasingly important to protect and safeguard your personal information so it doesn't fall into the wrong hands. Shredding is still the #1 way to accomplish this. Still not convinced? Here are 4 reasons to start shredding today: 
---
September 4, 2018
Information protection laws such as HIPPA (Health Insurance Portability and Accountability Act of 1996) apply to hard drive destruction and the destruction of their hard-copy counterparts. To enforce these security laws, costly fines are associated with any violations. For example, HIPPA Noncompliance penalties are $100-$50,000 per violation. Affinity Health Plan paid a $1.2 million fine in 2010 because the hard drives in their copiers contained protected health information and other sensitive documents.
---
August 13, 2018
Protecting your private information in today's age is crucial. Customer data, employee data, documented business processes, and other confidential information should be safely stored and maintained until they can be securely destroyed upon expiration. Document shredding is a necessary component of any document management program, but there are several different ways to approach shredding. Many companies wonder if they should utilize a selective shredding strategy or implement a shred-all policy. We'll take a look at the pros and cons of both strategies below.
---
July 17, 2018
Financial institutions face some of the most stringent rules and regulations regarding retaining and shredding records and documents. Banks and other financial businesses are governed by laws like the Gramm-Leach-Bailey Act (GLBA) and the Fair and Accurate Credit Transaction Act (FACTA) to ensure the safety of customer information. The consequences for violating these rules are considerable.
---
June 25, 2018
If you work in a medical profession, it is important to know how to treat the confidential information found in many medical records.  The New York State Department of Health and HIPAA (Health Insurance Portability and Accountability Act of 1996) have strict retention, storage, and shredding guidelines for these type of personally identifiable documents.
---
February 16, 2018
Data security is on the minds of many business owners. And it should be. According to a 2017 Cost of Data Breach Study, the average data breach in the U.S. cost $7.35million. The average cost per stolen record? $225. Aside from the monetary costs, a data breach can also significantly damage a company's reputation and customer loyalty.
---
January 8, 2018
When it comes to hard drive destruction there are a lot of questions and misinformation out there. This misinformation leaves a lot of personal data vulnerable. In fact, a recent Data Recovery Study showed that even after attempts to wipe drives, data could still be recovered. The study purchased 200 used hard drives on eBay and Craigslist and found that 67% of those drives still held personally identifiable information. Even more frightening, 11% of those drives contained sensitive corporate data such as company emails, sales projection spreadsheets, product inventories, and CRM records.
In order to protect yourself and your business, you need to have the right information. For this reason, we have decided to debunk four of the most popular hard drive destruction myths: (more…)
---
December 14, 2017
Do you do business with people in the European Union (EU)? If so, you have less than 5 months to make sure your data protection protocols comply with the new General Data Protection Regulation. If not you could face heavy penalties.
What is the General Data Protection Regulation (GDPR)?
This new regulation applies to any business in any country that holds, transmits, or processes personal data of EU citizens. The General Data Protection regulation will take effect May 25, 2018, and strengthens requirements around many aspects of using personal data, including the destruction of this data. Some of the key features of this new regulation are:
---
November 6, 2017
If you are shredding your junk mail and any other documents with personal information on it, good for you! Shredding these documents is an important step in securing your personal identity. If you own a business, it is even more imperative you are shredding these types of documents to not only keep your business safe, but your clients as well. However, that shredded paper can add up quickly. Make your shredded paper work for you! Here are 10 creative uses for your shredded paper:
---
October 12, 2017
Most companies update their office devices every four to five years. With the rapidly changing technology landscape, these updates are unavoidable and necessary but cause e-waste security concerns. If you do not currently consider e-waste into your cybersecurity plans, here are 4 reasons why you should:
---
August 30, 2017

If your business handles personally identifiable information, it is important to keep the information secure in order to protect your clients. This includes patient records, employment records, loan applications, tax forms, medical forms, credit card applications, and more.  Security breaches are a real and large threat to businesses of all sizes and across all industries. The average total cost for companies who suffered a data breach of more than 50,000 records cost an average of $10.3 million. Think your company is too small to have a data breach really affect you? Think again. According to an IBM study, data breaches involving small businesses can cost a staggering $4.5 million.  Data breaches small or large also tarnish your company's hard-earned trustworthy reputation, making it harder to gain new clients even years down the road.
---
August 17, 2017
Most businesses these days are very aware of security threats and have policies in place to keep themselves protected. However, even with these policies in place, there are many seemingly-innocent documents that are often forgotten about that can leave your business open to security breaches. Here are 5 documents you should be shredding, but probably aren't:
---
July 10, 2017
If your business handles personally identifiable information, it is important to keep the information secure in order to protect your clients. This includes patient records, employment records, loan applications, tax forms, medical forms, credit card applications, and more.  Security breaches are a real and large threat to businesses off all sizes and across all industries. Health care and financial related companies are at even more of a risk. No one wants a data breach to occur, but the fact is they happen on a regular basis. In 2016 U.S. companies and government agencies suffered a staggering 1,093 data breaches. What can a data breach cost for your business?
---
June 14, 2017

Unfortunately we live in an age where cyber terrorists and online hackers target companies and individuals to gain access to personal info in order to commit identity theft, insurance fraud and more. Gone are the days when paper was the only material you had to properly dispose of. Data found on old hard drives must be properly protected and disposed of. Simply throwing away hard drives without proper destruction could leave your business (and clients) at considerable risk.
---
May 2, 2017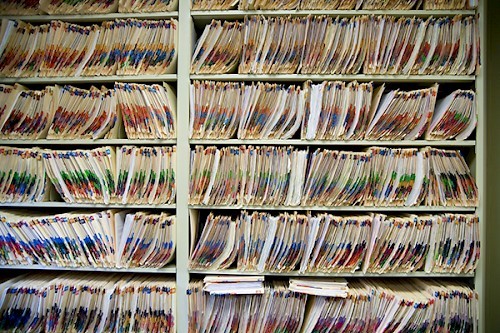 Just about every business nowadays handles sensitive information. Which means you have to adhere to certain document destruction policies in order to protect the identity of your clients, employees, and business. When comparing mobile shredding services to in-house shredding simply purchasing an office shredder and leaving the destruction of confidential documents to an employee may seem like a simple and affordable solution. In reality it probably is costing you more money and time than you think. (more…)
---
April 11, 2017
Earth Day is a reminder every April to sit back and take stock of how we're impacting the environment and what we can do to give back.
Because spring is a time of renewal and cleaning out, Earth Day is also the perfect time to make lasting, impactful change by shredding and recycling unnecessary paper and changing our habits to find a way to make less waste or recycle more frequently. (more…)
---
March 8, 2017
When you think data breach, you're probably picturing some masked hackers in hoodies in a dimly lit room with nefarious intentions. And, hey, you may be right. But what if your first line of defense against a data breach isn't the sophisticated cyber security software that you should still definitely be using, but your employees?
You May Be Underestimating How Your Employees Impact Data Security
---
February 10, 2017
Show of hands: how many of you rip up credit card offers when they come in the mail? If you didn't raise your hand because you shred credit card offers, good for you! If you didn't raise your hand because you just toss them straight into the recycling – you might want to rethink your policy…
Just like seemingly innocuous junk mail can be a threat to your personal identity, a lot of papers floating around your office might be a threat to your client or patient confidentiality. (more…)
---
January 9, 2017
It's New Year's Resolution time, and you know what that means: cleaning, organizing, and just generally getting in shape for the new year. If your New Year's Resolution is to clean out your office, avoid these common mistakes! (more…)
---
December 5, 2016
The paper shredded at Confidata's shredding facilities all gets baled and goes directly to paper mills where it gets recycled into everyday paper products, like toilet paper, tissues, paper towels, etc.
Around the holidays, though, we like to get a little whimsical and imagine what we would do with all the shredded paper if it weren't already being recycled. In the spirit of the season we've collected some of our favorite crafts, life hacks, and ways to repurpose shredded paper. (more…)
---
November 14, 2016
We get a lot of questions about privacy, patient and client data, and why shredding is important, especially now that a lot of data is stored and transmitted electronically.
Shredding is of course important for any hard copies of documents containing personally identifiable information, but protecting your client or patient data is more than just scheduling regular, confidential shredding. (more…)
---
October 11, 2016
Under the Gramm-Leach-Bliley Act, the FTC has issued a rule requiring financial institutions to safeguard consumer information.
The FTC's Safeguards Rule applies to both individuals and organizations who provide financial products or services to consumers. These services extend beyond the obvious banking and investment firms to check-cashing, data processors, non-bank lenders, property appraisers, and retail credit issuers.
Your safeguard program must include a written security plan that describes your program to protect consumer information. (more…)
---
September 7, 2016
Healthcare Data Confidence Tips from Confidata: Privacy Officers
Under HIPAA, every medical office must designate a privacy officer. Depending on the size of your practice, however, you may not need to create a full-time position.
Whether your privacy officer is full-time or takes on the responsibility for patient privacy and HIPAA compliance in addition to current duties, he or she needs to possess a few key qualities.
---
August 23, 2016
How to protect patient PHI and properly dispose of medical records
The Health Insurance Portability and Accountability Act (HIPAA) includes privacy and security rules designed to protect the Personally Identifiable Information (PII) of patients, often referred to in medical contexts as Protected Health Information (PHI). These rules require that medical professionals establish protocols for protecting and properly disposing of all patient records, especially those containing personally identifiable information.
Though it may be tempting to just say "shred everything" and leave it at that, understanding what PII and PHI are, and how your practice and your patients may be vulnerable to information misappropriation, is crucial. The internet makes sharing – and misusing – personal data easier than ever. Yes, even data that originated on paper. (more…)
---
January 7, 2016
Deb Cabral, The DeClutter Coach, announces today that in celebration of "GO Month" (Get Organized Month), she will be teaming up with JAY-K Lumber and Confidata to hold a Shred Day on Monday, January 18, 2016 from 9:00-11:00 am. The event is FREE and will be open to the public. It will be held right at JAY-K on Seneca Turnpike in New Hartford.
Individuals can bring up to five boxes of confidential documents or other paperwork that they need to dispose of and have it shred right in front of them by Confidata's mobile shred truck. Confidata will accept all types of office paper, file folders, old bills, junk mail, envelopes and other documents that contain sensitive information. No newsprint, magazines, binders or plastic report covers, please.
"Paper clutter is something we see over and over with both our residential and corporate clients," shares Deb, "if you have not looked at the papers in years, if you have moved a box of paper from house to house without even opening it or if your house is just overly cluttered with paper, it's time to go through it and get RID OF IT! Our event provides an easy drive-up and drive-away opportunity to dispose of up to FIVE boxes of paperwork securely and quickly."
GO Month is a national effort by the National Association of Professional Organizers (NAPO) of which Deb is an active member. NAPO is the premier national association dedicated to the field of organizing and is dedicated to providing its members education, networking, industry resources and also to promot­ing the profession to the public. www.napo.net
NAPO has promoted GO Month each January to coincide with the common New Year's resolution to get organized. During GO Month, NAPO professional organizers and productivity specialists across the country host events in their communities to empower individuals, families, businesses and organizations to regain control over their surroundings, time and possessions. By sharing proven organizing and produc­tivity techniques and principles, NAPO members help people save time, save money and reduce stress.
---
September 9, 2015
UPDATED FOR 2019: Confidata is teaming up with some local partners to bring free shred events to the local Albany, Syracuse, Binghampton, and Utica areas during 2019.
These shred events are open to the general public, no businesses please. If you are a business looking for shredding services, please contact us for a quote.
---
August 21, 2015
Thendara Golf Course provided the backdrop for Confidata's Chamber Choo Choo Open golf team on August 21. The annual event is among the most popular events for the Greater Utica Chamber of Commerce. Golfers were also treated to a train ride to and from historic Union Station and the course.
"Confidata is more than happy to support the Greater Utica Chamber through the Choo Choo Open," said Rob Shauger. "Besides advocating for local businesses, the Chamber provides business referrals, health insurance options, and legislative information to members. They really are a valuable resource to every business in the Greater Utica area, and we are proud and active members," he finished.
---
August 20, 2015
On August 20, a team from Confidata met at Cedar Lake Golf Club to raise money for Little Falls Hospital, part of the Bassett Healthcare Network. The Bassett Healthcare Network provides services to New Yorkers in a 5,600 square mile region; Little Falls Hospital is Herkimer County's "only provider of acute inpatient medical care, emergency care, short-term inpatient rehabilitation, and many other diagnostic and therapeutic services."
Confidata's Rob Shauger said, "It was important for us to participate in this event because Little Falls Hospital is the sole source of many critical services in Herkimer County. We can't imagine what a hardship it would be for so many in Herkimer County if the hospital had to cut services for financial reasons, and we're glad to be able to help keep the organization as healthy as it keeps its patients."
---
August 5, 2015
If you asked most people what Confidata is all about, they'd probably answer "shredding" or "recycling." That's certainly accurate, but it's not really what we're about. Confidata is about security.
Cyber-security gets the most headlines these days, but we do still see incidents of paper records being breached. In fact, identity theft is thriving, with thieves primarily using paper documents to open fraudulent accounts. Information can also be recovered from computer hard drives, if the thief has access and the knowledge. (more…)
---
August 4, 2015
Rob Shauger, Our Director of Sales and Development recently completed Shred School in Chicago.
Shred School provides continuing education and training for professionals in the secure document destruction industry, and is administrated by the National Association for Information Destruction (NAID). Rob completed courses in Industry Trends, 2015 Data Protection Regulations, and Diversification.
---
July 24, 2015
Welcome to the new Confidata.com! We've spent the past several months working on the design and content to give you the information you need about who were are and what we can do for you.
---
May 16, 2015
Looking for an up-to-date schedule of free shredding events? Click here.
Shredding paper records such as medical documents, bank information, tax documents and other items containing personal account numbers is one way to combat identity theft. In 2015, OCRRA brings you two opportunities to safeguard your identity by shredding all your confidential documents, at no charge! Mark your calendar to attend either or both events.
---
December 31, 1969
Confidata partnered with Onondaga County Resource Recovery Agency (OCRRA) on Saturday, September 19 for a shredding event that benefited the Food Bank of Central New York. The Food Bank of CNY is headquartered in Syracuse and serves Cayuga, Chenango, Cortland, Herkimer, Jefferson, Lewis, Madison, Oneida, Onondaga, Oswego, and St. Lawrence counties.
(more…)
---